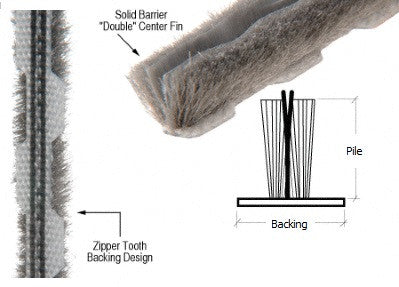 Misc. Larger Backed Sized Zipper Backed Weather Stripping - 100 foot - CLICK HERE FOR PILE HEIGHTS & PRICES
Regular price $125.10 Sale
Miscellaneous Different Sized Zipper Backed Weatherstripping
NON-Adhesive weather stripping for glass sliding patio doors.
Charcoal gray in color.
---
Zipper backed weatherstripping is the newest in weather stripping technology.
The backing on this weather stripping is zigzagged instead of the old style that was straight which makes this window and sliding door weatherstripping very simple and easy to install.
It is "finned" (thin plastic barrier down the middle) to help block any air flow.
Simply cut old weather stripping down the middle with a razor or utility knife. Pull out old weatherstripping.
Place the new weather stripping over the "T" channel and push it in with a thin, dull object, like a butter knife or edge of a credit card. It's just that easy.
A dab of glue may be needed at each end to insure the new weather strip doesn't come loose.
Watch this video to see How to determine the size of weather stripping you need.
Watch this video to see how easy it is to Install Our Zipper Backed Weather Stripping
Need a FREE SAMPLE to insure the weatherstripping is going to fit properly? There is a slight shipping charge for the free sample. 
Click here to get your sample: Weather Stripping Sample
---
Weatherstripping comes in a 100 foot roll.