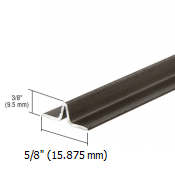 Aluminum Sliding Patio Screen Door Rail Cover - Bronze - 5/8 inch Wide
Regular price $41.95 Sale
Sliding Patio Door Screen Track Cover - Bronze
For sliding screen doors where the existing sliding screen door track is worn down or broken off.  These sliding screen door rail covers fit virtually ALL screen doors.
In some instances, a sliding screen door will stick, jam and fall out because the door is hitting the bottom of the threshold, even if the wheels or rollers are in good shape.  These raise the door up some so it doesn't do that.
Sliding screen patio door rail covers are designed to come to a point where sliding screen door rollers ride so that the sliding screen door rollers "hold onto" the rail. They are 5/8 inch wide (give or take an 1/8 inch) with the point right in the middle.

To fix the sliding screen door track, simply remove the sliding patio screen door, place rail cover over existing rail, glue into place and replace the door. How simple is that?

Screen door rail covers are bronze painted aluminum.

Aluminum Sliding Patio Screen Door Rail Cover comes with a tube of adhesive and Installation Instructions.

4 foot and longer pieces shipped in 1-1/2 inch PVC with end caps to help insure it doesn't get bent. Price includes additional shipping charge due to weight and length.
Notes:
The inside "point" of the rail cover stands approximately 1/4 inch high.  Therefore, there is a good possibility that the existing rail will need ground down with a hand grinder, especially if it is rounded, so that the new cover will seat properly.
It is recommended to thoroughly degrease and clean the track prior to installing the Screen Door Track Cover.  A degreaser such as Purple Power or Simple Green should be applied, let set for a few minutes to thoroughly eat the grease and oil, wiped off with a clean rag then apply rubbing alcohol on the area and wipe to insure all the grease and oil and degreaser is removed before adhering cover.
It is also suggested to rough up both the cover and the area the cover is to be applied with 60 or 80 grit sandpaper so the adhesive has a good surface to "bite" into.
The adhesive tacks up in about 10 minutes, gets decently hard within an hour and completely hardens within 24 hours.  Therefore, the door could be used within an hour since most of the force is horizontal or side to side and not vertical or up and down.