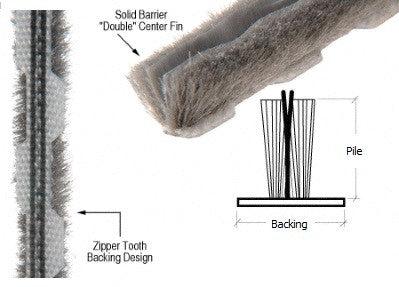 Zipper Backed Replacement Weather Stripping - .270 (1/4" backed) - 100 Foot - CLICK HERE FOR PILE HEIGHTS & PRICES
Regular price $45.50 Sale
One of our more popular sizes of replacement weatherstripping for sliding doors and windows.
The "Backing" is what goes into the channel that holds the weatherstripping in place on the sliding door or window and to which the fuzzy stuff or "Pile" is adhered.
The 2 most popular sizes of weatherstripping Backing are .187 (3/16 inch) and .270 (a little bigger than 1/4 inch).
Zipper Backed Weatherstripping is the quickest and easiest type of replacement weather stripping.  It is also "Finned" or has a plastic barrier running the length of it for additional protection against the outdoor elements.
Straight Backed Weatherstripping needs slid in the entire length of the channel versus our Zipper Backed Weather Stripping can be easily laid over the channel and pushed in with a dull object like a credit card, butter knife or pizza cutter. That's it. You're done.
Pile heights are in decimals. i.e. .250 is 1/4 inch. .200 is a little smaller than 1/4 inch and .300 is a little thicker or higher than 1/4 inch.
Watch this video to see How to determine the size of weather stripping you need.
Watch this video to see how easy it is to Install Our Zipper Backed Weather Stripping
Need a FREE SAMPLE to insure the weatherstripping is going to fit properly? There is a slight shipping charge for the free sample. 
Click here to get your sample: Weather Stripping Sample