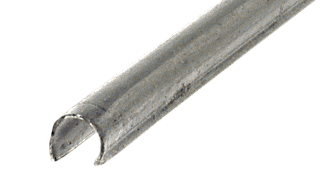 Sliding Patio Door Rail Cap
Regular price $30.95 Sale
Fixes the rail for sliding doors or wardrobe doors that go "bump", "bump", "bump" or for doors that stick due to dips in the roller rail.  Fits virtually ALL sliding patio door and wardrobe mirror closet door tracks.
A stainless steel "C" shaped sliding patio door track cap is designed for sliding glass patio doors and wardrobe or mirror doors where there is not much room to lift up on the sliding door or wardrobe door.
Sliding Door Track Cap snaps onto existing sliding glass patio door track or sliding ward.
Remove siding door. Cut to length, glue and snap on Stainless Steel Sliding Door Track Cap. Re-install sliding door or wardrobe closet door. That's it. Your done!
Product is shipped in 1-1/2 inch PVC with end caps to insure it doesn't get bent in shipping.