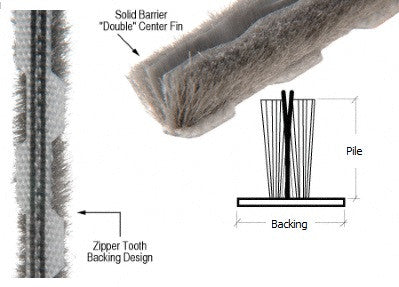 Zipper Backed Weather Stripping - .187 (3/16" backing) - 100 foot - CLICK HERE FOR PILE HEIGHTS & PRICES
Regular price $42.50 Sale
Zipper Backed Window and Sliding Door Weatherstripping
The sliding door and window weather stripping fills gaps between the sliding doors and windows and where the sliding door or window comes in contact with the sliding door tracks and sliding door frame or window frame to keep the outside air out and the inside air in.
Sliding Door and Window Weather Stripping comes in various different sizes of "Backing" (part the brushy stuff is stuck to) and "Pile" (thickness of the brushy stuff).
The 2 most popular sizes of weather stripping is .187 (3/16") Backed and .270 (a little bigger than 1/4") Backed.
The main differences between our "Straight Backed" and "Zipper Backed" Weather Stripping are:
1) "Zipper Backed" is "Finned" or has a plastic barrier in the middle running the length of the "Pile" for additional protection. "Straight Backed" does not.
2) "Zipper Backed" can be placed over the "T" Channel and pushed in with a credit card or pizza cutter. "Straight Backed" needs to be slid into the "T" Channel.
Our Zipper Backed Weather Stripping is the newest in weather stripping technology. The backing is zigzagged so installation is simple and easy as it just snaps right into the channel.
Length of weather stripping is listed at end of the product title for all your sliding door and window needs.
Watch this video to see How to determine the size of weather stripping you need.
Watch this video to see how easy it is to Install Our Zipper Backed Weather Stripping
Need a FREE SAMPLE to insure the weatherstripping is going to fit properly? There is a slight shipping charge for the free sample. 
Click here to get your sample: Weather Stripping Sample