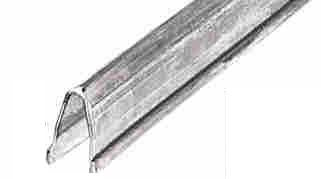 Sliding Patio Door Track Cover
Regular price $33.95 Sale
A sliding patio door replacement track cover for sliding patio doors that stick or don't slide very good.
A stainless steel "A" shaped sliding door track cover that is designed for sliding glass patio doors where support is necessary due to:
Dips in the sliding door track causing the sliding door to go "bump", "bump", "bump" when moving it.


If the existing sliding door roller rail is worn and the sliding door sticks and jams.


Horizontally level new rail is needed so the sliding door closes properly due to a worn sliding door track.

Even if a small portion of your rail is damaged, you need to cover the entire length of the door.
The 9/16" Stainless Steel Sliding Door Track Cover stands on the sliding door threshold, thereby giving a horizontally level new rail for the sliding door to slide on. It also supports the sliding door the entire length of the door track.
Remove sliding door. Cut Sliding Door Track Cover to length. Glue down. Re-install sliding door. That's it!
9/16" Stainless Steel Sliding Door Track Cover comes in 1 sections or enough to repair 1 sliding door up to 6 feet long.
IMPORTANT: Pick up on the corner of the sliding door. Measure between the flat part of the sliding door threshold and the bottom of the sliding door. 3/4 inch is needed to install this product.
Comes with adhesive and detailed installation instructions.
Additional sections can be ordered for larger sliding doors.
Product is shipped in 1-1/2 PVC with end caps to insure it doesn't get damaged in shipping.